MARIA SKLODOWSKA CURIE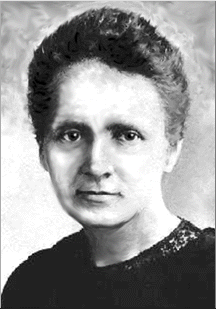 The following is the text of a plaque which is mounted (see link to unveiling by Cardinal Wojtyla, who became Pope John Paul II) on the front of Allen Hall, 3941 O'Hara Street [opposite Thackeray Street] in the Oakland section of the City of Pittsburgh, one of the original "Acropolis" academic buildings of the University of Pittsburgh. Allen Hall is the home of the University of Pittsburgh's Department of Physics and Astronomy [although the University's historic Allegheny Observatory is located about six miles northwest of the main campus--the largest astronomical observatory within the city limits of a major American city!].
IN COMMEMORATION OF MARIA SKLODOWSKA CURIE
A POLISH SCIENTIST
DISCOVERER OF RADIUM AND POLONIUM

CONFERRED DEGREE OF DOCTOR OF LAWS
BY THE UNIVERSITY OF PITTSBURGH ON MAY 26TH, 1921

INSPECTED FACILITIES OF STANDARD CHEMICAL COMPANY
AT CANONSBURG AND PITTSBURGH WHERE WERE PRODUCED
76 OF THE 120 GRAMS OF RADIUM IN THE WORLD
INCLUDING THE GRAM DONATED TO HER BY THE WOMEN OF AMERICA AND
PRESENTED AT THE WHITE HOUSE BY PRESIDENT HARDING

THIS RADIUM WAS EXTRACTED BY A PROCESS INVENTED AND
SUPERVISED BY GLENN DONALD KAMMER
OF THE UNIVERSITY OF PITTSBURGH

ERECTED ON THE OCCASION OF THE CENTENNIAL OF MME. CURIE'S BIRTH IN WARSAW, f, 1867
PROPOSED BY THE HISTORICAL COMMITTEE OF CENTRAL COUNCIL OF POLISH
ORGANIZATIONS OF PITTSBURGH
NOTE: Canonsburg is a suburb about twenty miles southwest of Pittsburgh. As Andrew Carnegie died in 1919, he did not meet with Madame Curie during her 1921 visit. It is unclear whether Andrew Carnegie and Madame Curie ever met, but Andrew Carnegie did visit France on occasion.
Links to other information on Madame Curie --
Biographical Information: Link 1 *** Link 2 *** Link 3 *** Link 4 *** Link 5 *** Link 6

Information, including photograph, of
unveiling of Allen Hall plaque by the Archbishop of Kraków, Poland, Cardinal Wojtyla, who in 1978 became Pope John Paul II,
on 1969 September 20:
<
http://en.wikipedia.org/wiki/Allen_Hall_(University_of_Pittsburgh)
>
National Institute of Standards and Technology Radium Standards and Marie Curie:
< http://www.nist.gov/pml/general/curie/index.cfm >
Re: Standard Chemical Company:
< https://en.wikipedia.org/wiki/Standard_Chemical_Company >
Biography: Polish Astronomer
Catherina Elisabetha Koopman Hevelius
and
"Observatory of Hevelius"
exhibit, displayed at Pittsburgh's original
Buhl Planetarium and Institute of Popular Science
,
1939 October 24 to 1991 August 31
(
Photograph of Exhibit
).